Properties for Sale or Lease City of Hamilton,Ontario Canada
Properties for Sale or Lease City of Hamilton,Ontario Canada
https://www.hamilton.ca/buying-selling-city/city-real-estate/properties-sale-or-lease


City-owned property sales online or advertise them through a Request for Proposal or Tender.
Hamilton Beach properties for sale
The following are the sale terms for beach lots in Hamilton:
Being sold "as is"
No financing available.
Council must approve all offers.
Building covenants registered on title.
Properties for Sale or Lease City of Hamilton,Ontario Canada
https://www.hamilton.ca/buying-selling-city/city-real-estate/properties-sale-or-lease
DISCLAIMER
We believe the information contained in this article to be accurate. It is presented with the understanding that we are not engaged in rendering legal, accounting, or investment advice. When professional assistance is required, utilize the services of a licensed real estate broker, lawyer, accountant, or other consultant as may be required.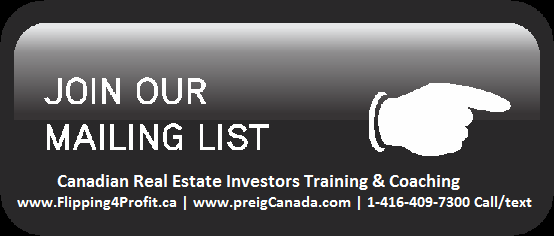 Flipping for instant profit LIVE real estate training seminar
Reserve your seat now at
www.Flipping4Profit.ca

Canadian Creative Financing Apprenticeship


Canadian Real Estate Investors Coaching & Mentoring


Eyewitness Canadian Real Estate Investors Training