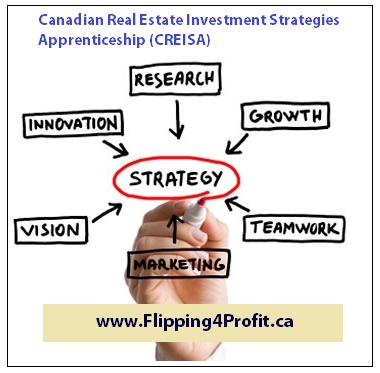 Canadian Real Estate Investment Strategies Apprenticeship (CREISA)
Canadian Real Estate Investment Strategies Apprenticeship (CREISA) is two  day intensive program where each apprentice whether being a novice or a seasonal investor will learn the fundamentals of investing in real estate with minimum liability and maximum profitability.
Canadian Real Estate Investment Strategies Apprenticeship (CREISA) is designed with the combined experience of 70 years of real estate investing where you will learn over 30 different strategies/techniques, and over 6 no money down secrets through a hands on, in the trenches approach to learning. It is proven that the best way of learning is not by reading, or by audio/video but through hands on training where one can retain up to 90% of information.
Canadian Real Estate Investment Strategies Apprenticeship (CREISA)
will begin by teaching you the basics to very sophisticated investing tools and techniques which can empower you to start making money up front instead of by using the conventional way which involves risks and opens you to be subject to the ups and downs of the market.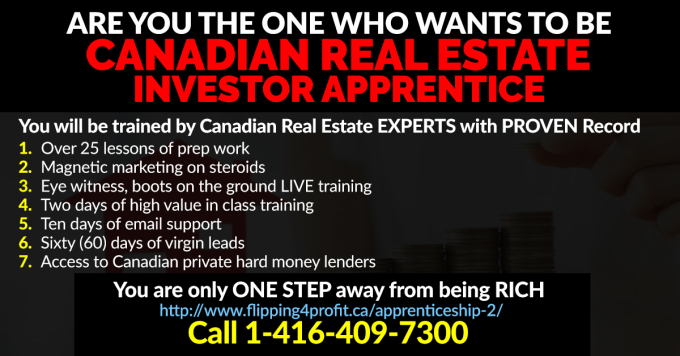 We have taken out the words speculation, gambling, and risk completely from this apprenticeship, and provide a positive, optimistic and legal way to make large income.
What would you learn at Canadian Real Estate Investment Strategies Apprenticeship (CREISA)
    Top 30 Canadian real estate investment strategies
    Top 10 Canadian tax savings techniques for real estate investors
    Top 5 Canadian forgivable grants for Canadian real estate
    Top 10 sources where Canadian panic sellers call you to sell their property at a discount.
    Top 10 sources for finding deep discounted Canadian real estate deals
    Marketing on steroids automatic lead generator
    Over 50 steps of Due Diligence
    How to make instant profit now and passive income for life
    Creative financing with no credit, no job and no money down
    Setting up your Canadian real estate investment business
    How to find top Canadian real estate professionals

The Non-Requirements for Canadian Real Estate Investment Strategies Apprenticeship (CREISA)
For you to attend the
Canadian Real Estate Investment Strategies Apprenticeship (CREISA)
you DO NOT need to have:
Good credit.
A full time job.
Large capital.
Any qualifications or educational background
All you need is the determination and desire to learn and achieve your goals. You will start using the knowledge you have obtained in this apprenticeship the minute you step out of the room.
Once you finish the apprenticeship, networking and support will be provided to you to ensure your continued success. We already have an exclusive network of over 17,000+ Canadian Real estate investors from coast to coast which will be at your disposal.
To receive more information on future real estate events, please fill out this form and submit it. Upon submission, you would receive an email and would be asked to confirm your email address. Also, add nav4164097300@gmail.com to your address book in order to receive future updates.
How will this Canadian Real Estate Investment Strategies Apprenticeship (CREISA) Benefit me?
There will be  networking meetings held to enhance your acquired skills and knowledge.
During the Canadian Real Estate Investment Strategies Apprenticeship (CREISA), there will be no case studies instead, there will be calls coming from panic property sellers where you will learn how to handle the calls, write up an offer and complete the transactions professionally.
This is the most powerful real estate investors training/seminar /boot camp/apprenticeship where you will be armed with education, knowledge and networking abilities.
For more information about this apprenticeship and upcoming times and locations, send us an email at pam@WorldWealthBuilders.com
or
Call/Text 
Pam  

647-393-6100
_____________________________________________________________________________________________________
______________________________________________________________________________________________________
Tuition Fee – $4999.99 plus applicable taxes
Each apprentice will be given a very special package called marketing on steroids which will help you gather all the necessary leads before you start your apprenticeship. (Value $999.98)
2 days High Value in class intensive training (Value $9999.98)
We will provide you the leads for 60 days which are deep discounted at no cost. (Value $1999.98)
We will provide you ten (10) days of email support from our experts (Value $999.98)
We will provide you Eye Witness Field training or One Hour Coaching by phone (Value $999.98)
Special Discount for Couples/Business partners
Total value $15,000.00

You pay only $4999.98 plus HST
To Register, $999.99 deposit required
Align yourself with the most powerful, knowledgeable, influential, successful over 17,500+ Canadian Real Estate Investors for monthly mentoring,network and support at Professional Real Estate Investors Group (PREIG) Canada.
 P.S. Take Action now to attend the eye-opening Canadian real estate investment crash course seminar and walk away with confidence, knowledge, and specific "action ideas" that can help you achieve your dreams and leave the rat race behind.
P.S.2 Successful people don't hesitate. They spot a great opportunity and swiftly seize it. So get off the fence, stand up for the life you know you deserve and take some action…So go ahead and snap up one or two spots for apprenticeship.
Empowering Canadian Real Estate Investors since 1993
We are also Canadian private hard money lenders. We can offer you multiple solutions to resolve any situation. We can also do short term small private mortgage if required.
We can HELP !! We also BUY HOUSES. Please call:

P.S. Success isn't a matter of chance, it's a matter of choice. So it's up to you to make the right choice to become successful. If you don't know what to do it starts with making the choice to register for this LIVE real estate investors training in your town now and making sure you make the right choice to SHOW UP!!! Learn more to earn more!
Are you a Canadian real estate Investor? Join Canada's largest real estate investors club now.