Canadian professional real estate investors learn during the apprenticeship some hardcore facts about Canadian real estate investments. Buying and selling requires some insight to be profitable. Since spring and summer months are notoriously the best time to sell real estate in Canada, fall and winter may be the ideal months to buy real estate or Best time to invest in Canadian real estate.
1. Fewer buyers are in the market – less competition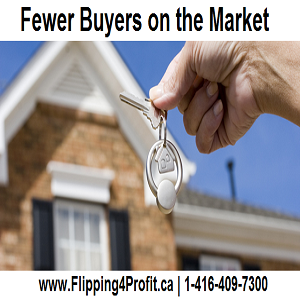 Competition for houses drops off in the fall in Canada, a time when most people consider it to be off-season in real estate. But there are still homes for sale – and in some cases, there's just as much inventory as there was during the spring and summer. Fall means new inventory and repositioned old inventory that did not sell in the prime season.
This puts Canadian professional real estate investors at a great position to negotiate. Fall Canadian professional real estate investors should consider making aggressive offers, followed by more aggressive negotiation. Many panic sellers are motivated to sell before the holidays. If possible, Canadian professional real estate investors should let these sellers know that they can close before Thanksgiving or before the school winter break.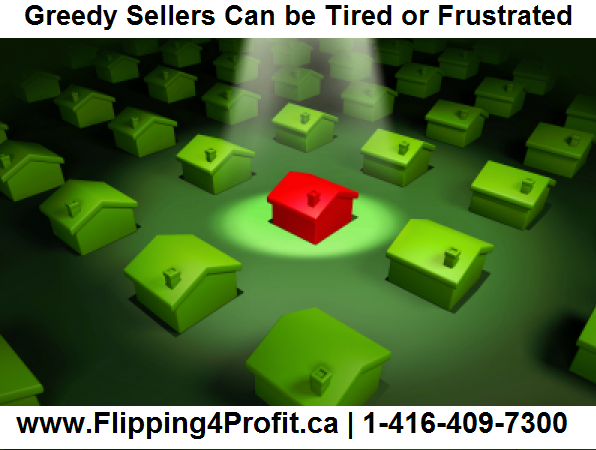 2. Greedy sellers can be tired and frustrated
Some greedy property sellers who put their homes on the market during the prime selling times of spring and summer might have been overconfident by listing their homes for more than buyers were willing to spend. After months of little or no action, these tired and frustrated property sellers are often ready to make a deal.
Canadian property owners who were unrealistic earlier in the year about price will now be more willing to reduce the price come fall. Because there are fewer buyers and because the property owners are now eager to sell, they are more inclined to take the lower offer than wait another six months for spring to come around.
3. Sellers become more serious
Not all homes on the market in fall are summer leftovers. Some Canadian home owners need to sell in the fall because the timing is right. Maybe they were having a home built and it's now ready. Maybe they need to move because of a job. The sellers with houses on the market in the fall tend to be serious. That means sellers could be more open to negotiating and accepting a reasonable offer.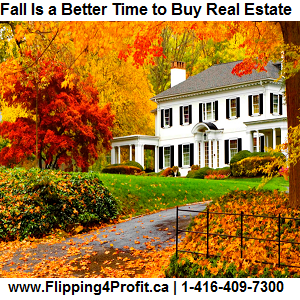 4. Fall is a better time of year to buy Canadian real estate
Waiting until the fall (to buy) gives you an advantage when learning about a home and the neighborhood. You'll be settled in your home and can take precautions – like setting up that new alarm system.
5. You're the center of attention
Because spring and summer are ideal times to buy a home, realtors are usually busier then. And that could mean you might not always get the attention you want. This is also true for other professionals you're working with to buy a house. Service providers, such as mortgage lenders and real estate professionals, can often respond more quickly since the summertime crazy market has slowed down.
The same goes for movers. Because summer is peak moving season, Canadians often experience more delays and service issues, such as moving companies reaching capacity and running out of trucks to pick up shipments. The probability of experiencing a delay goes way down in the fall season.
6. You can take advantage of end-of-year sales to outfit your home
More than likely you will be making improvements to your new home after your purchase. Most likely you will need to buy items to maintain your home, and if appliances did not convey with your purchase, you will need to buy those as well.
Wouldn't it be great to coordinate your home purchase with sales on items you'll need? September is a great time for buying carpet and paint. October means lawn mowers go on sale, and appliances and cookware are cheaper in November. November is also a great time to take advantage of retailer holiday sales items, which seem to be abundant that time of year.
The best advice is to learn from fellow Canadian real estate experts with decades of experience and proven results.
Always learn from a Canadian real estate investment expert with proven results before investing in Canadian real estate.
We are sincerely devoted to helping you create wealth for life with spectacular results in Canadian real estate investments.
Sign up below to receive profound inspiration and powerful tools so you live at wow.