Alberta  Is On Sale
Alberta Foreclosure LIVE Training  can make you a fortune that has been to the sale and that doesn't include the thousands of homes that haven't. Homes with mortgages in default, some in foreclosure, some not yet. All with desperate panic sellers looking for an answer
Some are upside down with no hope of being saved from the sale. Others still have plenty of equity but owners who are hurting and can't save their homes.
There's never been a time like this, and there may never be again. The rules are getting written daily, and the opportunities are so plentiful and vast, it's no longer an issue of finding deals, it's more of a selection process of picking the ripest, low-hanging fruit.
We expect at least another 12 months of fortunes at your feet, and we did an Alberta Foreclosure LIVE Training last year to help you capitalize on it before it's too late and this rare opportunity passes by. Fortunately for you, you will be able to take Alberta Foreclosure LIVE training 2016 in Calgary this year.
You see, you need to learn how to make money on almost any foreclosure…before, during and after the sale.
You need to see opportunities most don't, and you need to learn how and where to capitalize on them. We are  willing to share those secrets, strategies and techniques acquired over 30 years of Canadian Real estate experience and help you.
How To Make An Absolute Fortune In This Economy Harvesting                                     Alberta Foreclosure Gold
Here are some of the things we will  cover  in a simple, step-by-step format designed for beginners and pros alike in my three (3) day Alberta foreclosure LIVE Training 2017.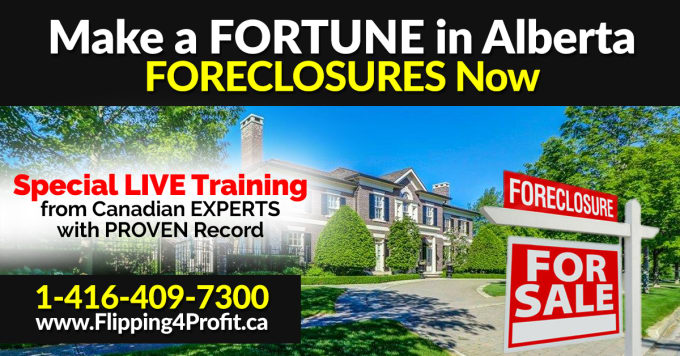 * Let the Panic Home sellers find you to sell their home
* How to find killer deals not in the MLS and target only the best prospects.
* How to pre screen in seconds any and all types of foreclosures whether they come with existing debt, one or two mortgages. This will allow you to get ten times more deals in a fraction of the time.
* It's probably the biggest mistake most investors make…chasing dead ends.
* How to raise the money to buy houses one at a time or in big blocks, and how to invest capital you have to get 300% returns on cash.
* What to offer on all-cash deals to absolutely guarantee you have a five-figure profit on quick flips you can do in a few days.
* How to have an army of anxious buyers waiting to take all the deals off your hands you can find, and how you can set up a simple but automated system to flip junkers and never talk to your buyer.
* How to get hundreds of thousands of dollars in free equity on houses before they go to the court without risk to you.
* How to buy your next residence with no down payment or credit, even if you've been through foreclosure yourself or are in bankruptcy. Your credit is irrelevant. No one will check it.
* How to sell the houses quickly to create cash now, cash flow and big paydays months from now when you least expect them. You'll learn how to get free assets and turn them into cash. Try that in the stock market.
You'll learn complete system on pre and post foreclosures in a manual with step-by-step instructions and a clear plan on what to do next, how to do it and how fast you can expect it to pay off at Alberta Foreclosure LIVE Training 2017
Please fill and submit this form to get updates on future real estate events. Once you have submitted the form, check your email. You would have received an email from preigcanada@gmail.com that would ask you to confirm your email address. Please also add preigcanada@gmail.com to receive future updates.
Alberta Foreclosure LIVE Training
EYE Witness Boots on the ground Alberta Foreclosure LIVE Training  in the foreclosures supreme court
(Real time, real deals)
Reserve your seat at
http://www.flipping4profit.ca/alberta-foreclosure-live-training/
What you do get is Three (3) days of LIVE apprenticeship and complete systems manual and a day in practical field training which involves LIVE courts and two red hot virgin leads at the Alberta Foreclosure LIVE Training
Don't think about this. Just reserve your spot while you can. for Alberta Foreclosure LIVE Training  Our class size will be extremely small to get personal attention.
See you at the Alberta Foreclosure LIVE Training 2016!
"Today's Alberta's Foreclosure Market Has Created Opportunities For Overnight Wealth Unlike Any Other Time In History…"
Bankruptcy, foreclosure and exodus batter Calgary's housing market~Geoffrey Morgan of FinacialPost | May 20, 2015 | The number of bankruptcy proposals in Alberta is up 24% in the six months ending in February 2015 The province is also home to the highest share of bankruptcy proposals in Canada
Oil Sands Boom Dries Up in Alberta
Calgary at a Crossroads: The economy's tanked, now what?
Who we are and who we want to be: New CBC Calgary project focuses on what makes our city tick
By David Perlich, CBC News Posted: Nov 29, 2015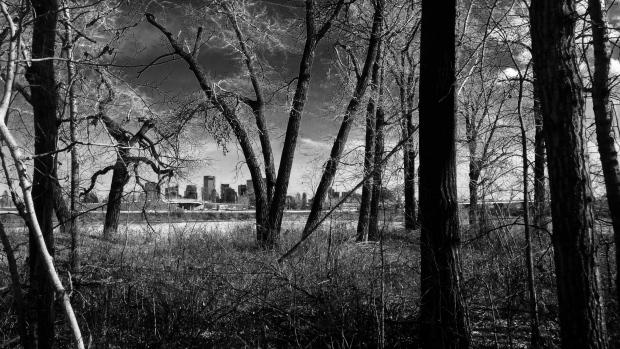 A look at the city's character
All of us here at CBC Calgary live and work in the city, so we thought: Let's take a look at what's different this time around, and how is it affecting the character of the city.
We're calling it Calgary at a Crossroads, a continuing special look at all things Calgary that will run over the next five months or so.
We're going to bring you the stories of our city that focus on our personal relationships with this place we all call home:
How we're coping with the downturn, and how we're not.
How Calgary can be an amazing place to live, and a city that occasionally tempts a resident to buy a plane ticket to "Get-Me-The-Hell-Out-Of-Here."
Calgary at a Crossroads will live online, on our radio programs and as video stories — and it all starts today.
Average Fort McMurray home price down $117,000 from 2014
The Canadian Association of Oilwell Drilling Contractors has released a bleak forecast for the upcoming year that projects the downturn will only get worse for the sector.
Calgary home sales decline the biggest in the country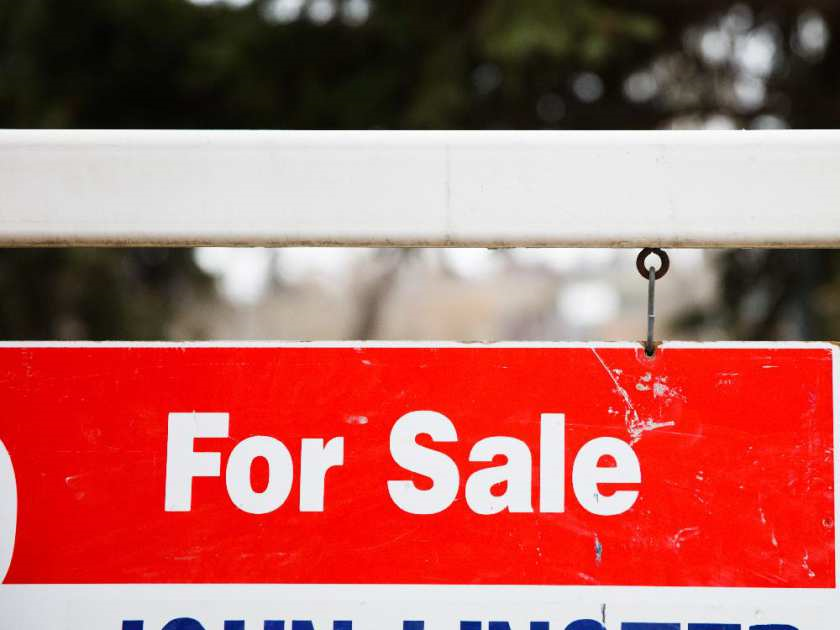 Calgary's resale housing market led the country in October — in a negative way.
MLS sales in the Calgary region were 1,810 for the month, down 36.4 per cent from a year ago. The rate of decline was the highest among Canada's major housing markets, according to a report released Monday by the Canadian Real Estate Association.
Calgary real estate slides again in November as prices drop 5.1%
Homes sold last month sat on the market for an average of 45 days
CBC News, Posted: Dec 01, 2015
Home sales and prices continued their year-over-year decline in November, according to the latest aggregated data from the Calgary Real Estate Board.
A total of 1,263 homes were sold in the city last month, down 28.7 per cent from November 2014.
Average sale prices were off 5.1 per cent year-over-year, sliding to $460,859.
Please subscribe to reserve your seat now.
Email Marketing You Can Trust
We are also Canadian private hard money lenders. We can offer you multiple solutions to resolve any situation. We can also do short term small private mortgage if required.
We can HELP !! We also BUY HOUSES. Please call:

P.S. Success isn't a matter of chance, it's a matter of choice. So it's up to you to make the right choice to become successful. If you don't know what to do it starts with making the choice to register for this LIVE real estate investors training in your town now and making sure you make the right choice to SHOW UP!!! Learn more to earn more!
Are you a Canadian real estate Investor? Join Canada's largest real estate investors club now.