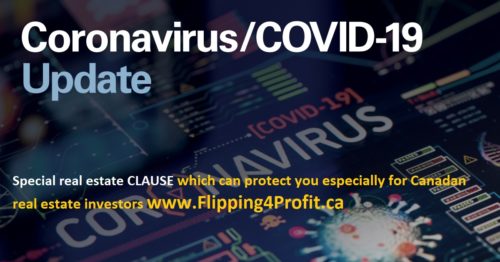 The potential impacts of COVID-19 for buying, selling,
flipping or entering of their property with your clients,
investors, contractors, property inspection, appraisal
and review the options that are available to them.
These options could include:

Having you request health and recent travel information
from the potential buyers, seller, investor or renter
and their professionals before any showing to give the
property owner an indication of any risk.

The potential buyers, seller, investor or renter are
obligated to either be truthful or simply decline to
answer. Inform the property owner that they have no
duty to show the property if they are uncomfortable
with any presented risk*

Creating a marketing video showing a tour of the house
to reduce the number of viewings to the potential buyers,
seller, investor or renters.
By offering a virtual video tour, the property owner could
then consider only allowing viewings for the serious
potential buyers, seller, investor or renters who make
an offer to purchase subject to a viewing.
Make viewings conditional on the potential buyers, seller,
investor or renters and their representatives wearing
nitrile gloves or the use of anti-microbial,
alcohol-based hand sterilizer.
A plan to clean doorknobs, cupboard hardware, light switches,
as well as surfaces in areas like bathrooms and kitchens
before and after each showing of the property.
Traveling in separate vehicles to viewings to limit the
amount of time spent in close proximity to each other.
Taking all precautions necessary, including cleaning and
sanitizing the home before and after an open house or
any home inspections.
The property owner may also have the option to temporary
pull their property off the market. Where applicable,
check with your real estate board to determine whether
they have relaxed their listing rules to allow viewings
to be suspended.

The property may also be pulled off the market by terminating
the listing entirely and entering into, and signing,
a new agreement to re-list the property at a future date.
Buyers could also choose to postpone the purchase
process until a later date.
Any clause included in a contract to address circumstances
surrounding COVID-19 should be drafted and reviewed
by legal counsel to ensure enforceability and to
ensure the clause addresses the specific scenarios adequately.
Coming soon
Please add and SAVE preigCanada@gmail.com
in your email contact list and fill up the form.
We will send you all the updates at no cost to you.
Disclaimer:
This information does not constitute legal advice. 
Industry professionals should seek legal advice based on their
specific facts and circumstances.