Nunavut Down payment Assistance Program

Nunavut Down payment Assistance Program (NDAP) assists clients in achieving home ownership through conventional financing means by providing financial assistance to ensure the clients have ten percent of the total house costs to contribute as a down payment.
A personal financial (mortgage equity) contribution by the client, when combined with NDAP, will ensure that clients meet the minimum down payment requirement of conventional mortgage lenders.
NDAP is offered as a forgivable 2nd mortgage over a 10 year period. There is no forgiveness in the first 5 years.
The NHC will provide on a one-time-only basis a contribution in the form of a forgivable loan to subsidize the cost of purchasing an existing home or constructing a new home. Exceptions to the one-time only basis may only be made with the approval of the Corporate Executive Committee.
Sliding Scale Funding
The NDAP contribution is based on 7.5 per cent of the total costs, to a maximum of $30,000. The client's portion of the down payment must be a minimum of 2.5 per cent of the total costs.
The following table is provided to illustrate examples of NHC's level of assistance and the clients' personal financial contribution, based on total costs ranging from $50,000 to $400,000. The exact contributions are to be determined by calculating the percentages of the actual costs.
Purchase Price Client 2.5% NHC 7.5% Total 10.0%
$50,000 $1,250 $3,750 $5,000
$75,000 $1,875 $5,625 $7,500
$100,000 $2,500 $7,500 10,000
$125,000 $3,125 $9,375 $12,500
$150,000 $3,750 $11,250 $15,000
$175,000 $4,375 $13,125 $17,500
$200,000 $5,000 $15,000 $20,000
$225,000 $5,625 $16,875 $22,500
$250,000 $6,250 $18,750 $25,000
$275,000 $6,875 $20,625 $27,500
$300,000 $7,500 $22,500 $30,000
$325,000 $8,125 $24,375 $32,500
$350,000 $8,750 $26,250 $35,000
$375,000 $9,375 $28,125 $37,500
$400,000 $10,000 $30,000 $40,000
Special Sale Forgivable Canadian Business & Real estate Grants, Canadian Credit Repair


Eligible Clients
The applicant(s) must be at least 19 years of age.
This program follows income eligibility limits as set by the Home ownership Program Income Eligibility (HPIE) numbers
The applicant(s) must not currently own residential property, or have owned residential property in the community in which they are applying for NDAP during the last five (5) years. However, in extenuating circumstances exceptions do apply.
Neither the applicant nor co-applicant may have received previous assistance from the NHC to buy or build a home within the last 10 years. In extenuating circumstances, and with the approval of the Corporate Executive Committee, this requirement may be waved. (for more details, please see the NDAP guidelines)
Applicants with rental or mortgage arrears with any Local Housing Organization in Nunavut or with the NHC, or who have otherwise caused a loss to NHC, do not qualify for the program until those arrears or losses are paid in full. However, at the discretion of the Corporate Executive Committee this requirement may be waived, provided that the client(s) agrees in writing to a Repayment of Arrears Schedule
The applicant(s) must be approved for a mortgage from a Canada Mortgage and Housing Corporation (CMHC) approved lender. The Corporate Executive Committee may, at its discretion, approve alternative financing arrangements upon the submission of appropriate documentation by the applicant(s).
The applicant(s) must be able to afford to own and operate the home. In addition to a bank's analysis to determine credit worthiness, the NHC will conduct its own affordability analysis as part of the approval process.
For more information
Directorate
P.O. Box 1000, Station 1400,
Iqaluit, NU X0A 0H0
867 975-7200
867 979-4194
The Nunavut Housing Corporation (NHC) was created in 2000 through the Nunavut Legislature by the Northwest Territories Housing Corporation (Nunavut) Act. Our mandate as a public agency of the Government of Nunavut (GN) is to create, coordinate and administer housing programs so that we may provide fair access to a range of affordable housing options to families and individuals in Nunavut.
DISCLAIMER
We believe the information contained in this article to be accurate. It is presented with the understanding that we are not engaged in rendering legal, accounting, or investment advice. When professional assistance is required, utilize the services of a licensed real estate broker, lawyer, accountant, or other consultant as may be required.
To buy a directory of all Canadian Real Estate Grants at 60% discount, please go to: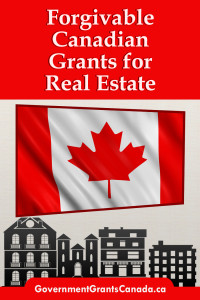 http://www.flipping4profit.ca/special-services/real-estate-grants/
Special Sale Forgivable Canadian Business & Real estate Grants, Canadian Credit Repair


P.S. Success isn't a matter of chance, it's a matter of choice. So it's up to you to make the right choice to become successful. If you don't know what to do it starts with making the choice to register for this LIVE real estate investors training in your town now at www.Flipping4Profit.ca and making sure you make the right choice to SHOW UP!!! Learn more to earn more about Canadian Tax sale properties.