An Open Letter to Wannabe Canadian Real Estate Investors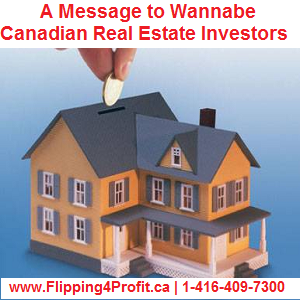 Investing in Canadian real estate is extremely profitable provided you have taken time to learn from fellow Canadian real estate experts with proven record. Learn creative practical secrets, systems and strategies which can be implemented in Canada by attending Canadian real estate investment strategies apprenticeship. Witnessing a real deal in real time is the best and fastest learning curve.
But here's the bad news: Most of the Canadian real estate investors have taken the training from outsiders who have never done a deal in Canada. Fancy names, celebrities, Fix & Flip TV show stars have started business of teaching others but hire cheap labor to read the scripts only. Most of Canadians have taken multiple courses spending $20,000 to $80,000 dollars and end up being broke and bankrupt.
We want to encourage you to learn from the Canadian real estate experts and give you a few simple pieces of advice that will make a difference in investing in real estate.

Join Professional real estate investors group (PREIG) Canada to start networking with fellow real estate investors. Attend their local networking meetings and other events to mingle with very successful real estate investors. At least meet one person who can add value and assist you to achieve your goal. People don't do business with strangers. At the end who do you know matters a lot. Start building your connections of your entourages.
You must invest your time and effort to meet local Canadian real estate investors to do joint ventures, seek capital or partnership and flip deals.
Be a bird dog; that can give you a head start. Start paying lot of attention around you and you may find lot of panic sellers and anxious buyers. You can refer them to an experienced Canadian real estate investor and watch how the deal works. Good thing is you will get a small token fee.
Be a volunteer at REI club; Professional real estate investors group (PREIG) Canada have several volunteer positions. Investing in real estate is lifelong learning process.
Forgivable Canadian real estate grants are available for down payment, upgrading, adding in-law suites, seniors and multi u
nits. You might be eligible yourself and can help fellow Canadians too.
Attend LIVE eye witness, boots on the ground real time real deals for accelerated learning. Only experts can show you.
Virgin leads are very important part of Canadian real estate investments. There are more than ten sources which an average Canadian real estate investor has never known.
Ask for the REAL PROOF before you starts taking any education how to invest in Canadian real estate. Ask them to show the real deal they have done themselves in Canada. Most of the trainers are snake oil salespeople who can read the script only. They are getting minimum wage and some of them never invested in Canadian real estate.
Build your database; You need to have a special list of following people who are also investing creatively in Canadian real estate in your database.
Canadian private hard money lenders
Canadian cash buyers
Real estate lawyers
Short term private lenders for bridge financing
Joint venture partners
Realtors
Mortgage brokers
Property Inspectors
General contractors
AACI appraisers
Deep discounted Canadian real estate deals are in abundance. Find, fund, fix and flip to make a fortune require training from experts.
Invest and dedicate time and money: One need to invest in themselves which require money, time and dedication. Having access to money is the best secret in Canadian real estate investments.
Action and decision will reflect the success. Having armed with knowledge and access to money requires that you start making offers and start putting deals under contract.
Branding yourself to be a problem solver Canadian real estate investor will attract all kind of deals.
Hire a Canadian real estate investment expert coach who have done couple thousand deals in Canada. Most of Canadian real estate investors have taken coaching online which is complete waste.
Investing in Canadian real estate success does not happen overnight, but it requires time and lot of effort.
There are17,000+ members of the Professional real estate investors group (PREIG) Canada community for you every step of the way. Be a part of Professional real estate investors group (PREIG) Canada.