Sell your houses in Canada for cash to angel investors. Fast closing, no hassle, no realtor fee will save time and headache.
If you are a property owner and in need of instant cash,  we buy houses in Canada can assist you. Professional real estate investors group (PREIG) Canada members with extensive knowledge, background and training; support we buy houses in Canada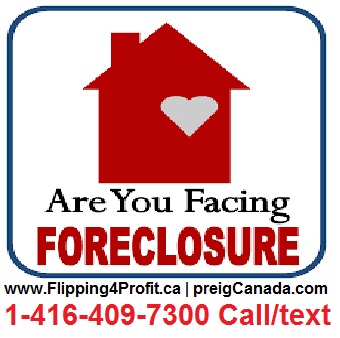 Quick CASH for your House now
You may be familiar with the advertisements of Canadian real estate investors who acquire houses for cash with fast closing to fulfill the needs of sellers. You may ask yourself what sort of business is buying houses? There are actually many reasons for people to purchase houses in Canada, and just as many reasons for people to sell their houses.
Once the house is purchased, repairs are performed on it. Afterwards, it is sold for a profit. We can get the repairs done for a very low price as construction companies would give concession to people who offer them several projects to work on. The house is sold after the completion of repairs, then we  repeat the same. This process is called "Fixing and flipping houses in Canada".
Why Home owners need CASH now
You may wonder: Why would a property owner be interested in selling their house to Canadian real estate investors for a discounted price. There could be many reasons behind it, which include situations not under their control. Deaths, divorce, sickness, loss of job, depression, desperation, drugs and alcohol are a few of the reasons where a property owner becomes a panic seller.
Sell your houses in Canada for cash in the following provinces.
Alberta, British Columbia, Manitoba, New Brunswick, Newfoundland & Labrador, Nova Scotia, Ontario, Prince Edward Island, Quebec, Saskatchewan.
The main reason we purchase houses for cash in Canada is that some people are in desperate need of instant cash due to situations such as foreclosure, judgements, delinquent payments etc.
Sometimes, a reason behind it is that somebody has found the job they want and need to move to a different location. Other times a couple gets divorced and selling the home allows quick liquidation of assets.
Reasons for selling it for CASH
The reason for Canadian homeowners to sell their houses to Canadian real estate investors is to avoid going through a lengthy process of a real estate agent. It is very expensive and undesirable for the homeowner to manage the cost of repairs, commission of agent etc. which would not be the case if he/she is dealing with a cash buyer.
Canadian home owners selling their home privately may not be the best choice. They have to make many repairs, allow strangers into their home and it is much easier to just sell to a cash buyer.
Our process of buying houses in Canada involves giving out cash to the owner and taking the property. It is very straightforward and there are no difficulties or costs.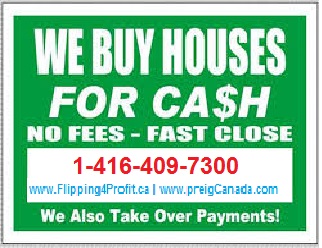 When the Canadian homeowner wishes to sell their house to a cash buyer they can call them to see the house. Canadian real estate investor would make an offer after looking through the house. A closing date would be set by both parties after they have negotiated the price. The investor or their lawyers will make all the paperwork. The entire process might last for only a few days.
You can benefit from selling your house to a cash buyer in many ways, if you wish to sell your home right away.
Sell your houses in Canada for cash
The major reasons why you want to use a Canadian real estate investor include:
You do not need to put your house on the market by yourself
It is much slower selling it through an agent
You are not obliged to pay any commission
You do not need to wait for anyone to qualify for a mortgage.
You can avoid foreclosure and power of sale
You can save yourself from bankruptcy or consumers proposal
You are not required to set appointments with buyers
Avoid paying real estate commission since you are selling directly to the investors.
We purchase houses in Canada "as-is" and "where-is"
We Buy Ugly Houses for cash
There is no need to perform repairs:
Wind, fire or water damage properties
Leakage in the basement
Bad tenants
Property needs repair
Dead parents house for sale
Tax sale
Auctions
Relocation services
Partner purchases out
Smudge properties
We buy Fixer upper properties for cash
Former grow op
Former meth labs
 Jinni Houses
Deficient of cash to finish the repairs
Personal problems
Drugs, addiction or sickness
Need cash
Travel
Family problems
Anything other – imperative
Sell your houses in Canada for cash
Abbotsford
Airdrie
Ajax
Aurora
Barrie
Belleville
Blainville
Brampton
Brantford
Brossard
Burlington
Burnaby
Caledon
Calgary
Cambridge
Cape Breton
Chatham-Kent
Chilliwack
Clarington
Coquitlam
Delta
Drummondville
Edmonton
Fredericton
Gatineau
Granby
Grande Prairie
Greater Sudbury
GTA
Guelph
Halifax
Halton Hills
Hamilton
Kamloops
Kawartha Lakes
Kelowna
Kingston
Kitchener
Langley
Laval
Lethbridge
London
Longueuil
Lévis
Maple Ridge
Markham
Medicine Hat
Milton
Mirabel
Mississauga
Moncton
Montreal
Nanaimo
New Westminster
Newmarket
Niagara Falls
Norfolk County
North Bay
North Vancouver
North Vancouver
Oakville
Oshawa
Ottawa
Peterborough
Pickering
Port Coquitlam
Prince George
Quebec City
Red Deer
Regina
Repentigny
Richmond
Richmond Hill
Saanich
Saguenay
Saint John
Saint-Hyacinthe
Saint-Jean-sur-Richelieu
Saint-Jérôme
Sarnia
Saskatoon
Sault Ste. Marie
Sherbrooke
St. Albert
St. Catharines
St. John's
Strathcona County
Surrey
Terrebonne
Thunder Bay
Toronto
Trois-Rivières
Vancouver
Vaughan
Victoria
Waterloo
Welland
Whitby
Windsor
Winnipeg
Wood Buffalo
Fill the form below or please text us at 1-416-409-7300 especially facing eviction, seizure, power of sale, foreclosure..
In case it is emergency, please call or text  +1-416-409-7300