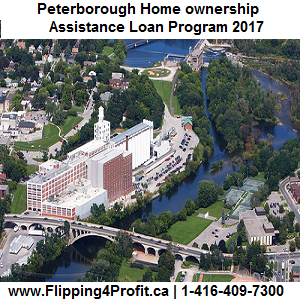 The City of Peterborough is offering a
$15,000 loan to assist with a down payment
. The eligibility criteria for this Program include, but are not limited to, the following:
Applicants:

Are currently renting (as defined by the Residential Tenancies Act,2006);

Do not presently own a home or property;

Do not owe money to a social housing landlord;

Have a gross annual household income up to $78,400;

Will use the purchased home as the sole and principal residence;

Qualify for a mortgage from a qualified lender; and

Are at least 18 years old.
The Home:

Is purchased for $300,000 or less;

Is a single detached, semi-detached, townhouse, row, or apartment unit
(freehold or condominium);

Is inspected by a professional home inspector (resale homes); or

Is covered under the Ontario New Home Warranty Program (new homes);

Is located in the City or County of Peterborough; and

Is of a modest size (approx. 1100 sq. ft for a 3 bedroom home).
[b]Application Process:[/b]
Step 1

Household eligibility approval

Mortgage pre-approved by qualified lender

Homeownership Education complete
Step 2

Requires signed-back Agreement of Purchase and Sale dated at least 5days
later then the date of your Step 1 Eligibility Approval Letter and with a
minimum of 30 days notice of the closing date

Signed-back Loan Agreement to receive loan upon closing
Other Key Points:

The loan is forgiven if the home
is the sole and principal residence for 20 years, but is otherwise repayable.

The loan is registered on title as a second mortgage on closing.

Canada Mortgage and Housing Corporation (CMHC) mortgage insurance treats the
$15,000 loan as equity.

Additional funds may be available to
applicants moving out of social housing.

Household assets, including any gifting amounts from
friends or family, savings, GICs etc. cannot exceed $15,000.

RRSPs do count towards personal assets
if they can be accessed for home
purchases as per Canada Revenue Agency guidelines.

The loan amount may be decreased if
$15,000 is greater than 10% of the purchase price.

Loans will be offered, subject to availability, on a first-come, first-serve basis.

The Program ends when funding has been allocated or December 1, 2017