Hard Money Lenders in Canada Canadian real estate is one of the most expensive investments one can make. This is why most Canadians borrow money to buy or invest property. There are different financing options that Canadian real estate investors can choose based on their financial status and financing needs. Canadian mortgages and hard money financing are two of the best real estate financing options for real estate investors.
Mortgages are usually taken on by Canadian homebuyers to pay for a home they want to live in. To qualify for a mortgage, one must have 5%-20% minimum down payment. Canadian banks and financial institutions also check the borrower's credit history to ensure that they are qualified.
Hard Money Lenders in Canada are Different
These are mortgages taken by Canadian real estate investors to finance fix and flip deals who might have taken coaching and or apprenticeship from Flipping4Profit.ca
Canadian homeowners can also enjoy the benefits that hard money financing offers to fix and flip their own principal residence.
Top TEN benefits of using Canadian Hard Money lenders for real estate FLIPS
Hard Money Lenders in Canada are asset based private lenders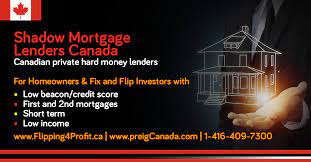 Hard money financing is asset based refers to a short-term real estate mortgage secured by the value of a property. Canadian hard money lenders don't care about a Canadian real estate investor's credit worthiness as long as they have a property whose value exceeds the mortgage amount.
A Canadian real estate investor would approach the lender to finance the purchase and repair of a "fixer-upper" property.
The expectation is that the final sale value or after repair value (ARV) of the property would make enough of a profit to pay off the mortgage.
A Canadian hard money lender would typically ask for the property evaluation in "as, is" condition and after repair value (SRV) in the form of an AACI appraisal. They also loan to value estimates and the Canadian real estate investors plan to renovate or build the property.
Because the loan is secured by the property's value, lenders don't place a lot of weight on a borrower's credit history. They would prefer to lend to someone that has a history of successful property flips or a larger down payment. Successful Canadian real estate investors carry less risk as they know their way around the property market.
Also, if a property deal doesn't go as planned, the Canadian hard money lender is more likely to recoup their money if the borrower had made a large down payment. The sale of the property would cover the balance of the loan amount. This is why many hard money lenders need a minimum down payment of 5-35% of the property sale price.
Hard Money Lenders in Canada can lend 100% of Purchase price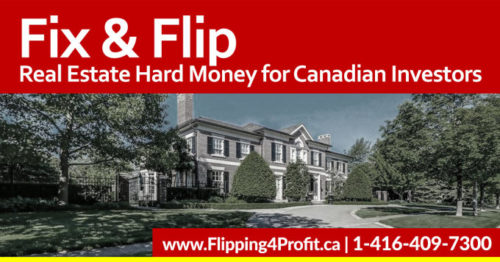 There are some 100% Canadian hard money financing that can lend you the full purchase value of the property with no down payment requirements. These "no money down" loans take into account the profitability of a real estate project.
Most Canadian hard money finance mortgages have a payment term of between one to six months.
Because of their higher risk and shorter payment period, interest rates are often higher than mortgage interest rates.
Most hard finance loans have an interest rate of 12-18% or higher, depending on your risk profile.
Hard Money Lenders in Canada are for Fix and Flip investors
Canadian Hard money loans also have origination fees called "lenders fees". This is a set percentage of a mortgage amount that the lenders charge to process, fund and service a hard money loan.
These fees range from between 3-5% of the mortgage amount. So, if you borrow $200,000 on a loan that charges three percent lenders fee you will need to pay an extra $6000 on top of your down payment.