Wholesaling
Real estate in Canada
Wholesaling properties in Canadian real estate can give you head start.Canadians have been enjoying a great appreciation and boom in real estate. This is the perfect time to start flipping houses with no money, no credit and no repairs. This is done by simply putting properties under contract and assigning or flipping before the closing. This is referred to wholesaling in Canadian real estate investments. Professional real estate investors who are trained apprentices with eye witness, boots on the ground and real life training and coaching are making a great fortune.
Essentially what a wholesaler Canadian professional real estate investor finds and put under contract a real estate property at a deep discounted price and then resell it to another real estate investor. This investor is often another house flipper who likes to fix and flip.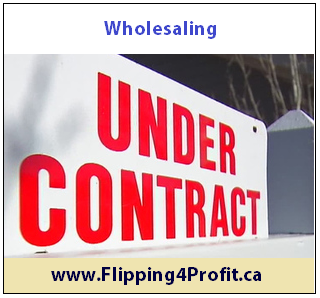 What's great about wholesaling is that you don't have to have any money or credit. The investor who is willing to fix will pay for the house on your behalf. You on the other hand, will receive an assignment fee which can be from $5K to 10K, depending on the deal.
Consider attending intensive apprenticeship from World Wealth Builders in Canada to learn the secrets, strategies and techniques. Coaching is one of the best kept secrets of your success in wholesaling Canadian real estate.
You should always network as much as possible so you can increase your chances of finding Canadian real estate investors. One of the greatest spot is to network with preigCanada.com and becoming a member.
Finding deep discounted Canadian real estate deals are secret of very wealthy Canadians. You can learn the top 10 ways to find these leads by attending live Canadian real estate investors training.
Find the right Canadian real estate deal where there is demand and supply. There are certain markets which can take forever to flip or sell a house.
You must always remember that both you and the Canadian real estate flipper investor needs to profit from this deal. A real estate investor will never buy a property to break even. They expect to make somewhere in the tens of thousands of dollars from flipping the house. If you subtract the cost of repairs and your wholesaler's fee from the after repair value, you must make sure there is enough profit to make the deal worthwhile for the real estate investor.
You must get an AACI appraisal before marketing any deals showing them the profit margin. The proof of its current market value is required as well as after repair value by a member of Appraisal Institute of Canada.
An offer is higher in price, doesn't mean it's always the best option. Sometimes, a smaller cash offer can be a better choice than a higher offer with conditions. Cash offers, in contrast, are clean and simple. Do the math and choose the deal that's right for you and welcome to Canadian wholesaling real estate investments.
We are also Canadian private hard money lenders. We can offer you multiple solutions to resolve any situation. We can also do short term small private mortgage if required.
We can HELP !! We also BUY HOUSES. Please call:

P.S. Success isn't a matter of chance, it's a matter of choice. So it's up to you to make the right choice to become successful. If you don't know what to do it starts with making the choice to register for this LIVE real estate investors training in your town now and making sure you make the right choice to SHOW UP!!! Learn more to earn more!
Are you a Canadian real estate Investor? Join Canada's largest real estate investors club now.