CALGARY, Alberta – July 12, 2017 There is a good opportunity currently available to Canadian real estate investors who wish to buy a house in Alberta, where Foreclosures in Alberta up about 25%. You will discover many excellent bargains on Alberta pre-foreclosures. If you're looking to invest in the real estate market, pre-foreclosures in Alberta will offer you a wide array of properties at basement bargain prices.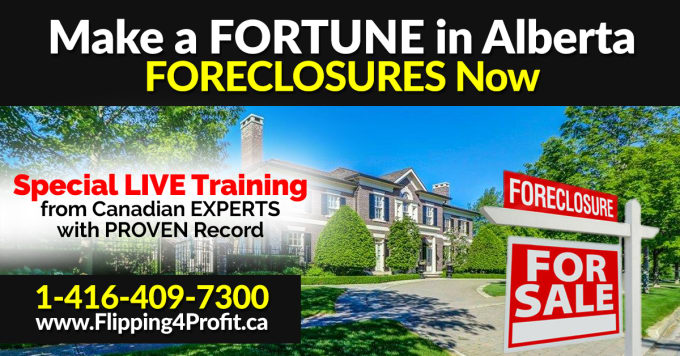 Foreclosures are on the rise, up by about 25% annually over the past two years. Statistics from the province show a total of 5,746 properties were foreclosed on between April 1, 2016 and March 31, 2017. Of those, 2,277 were in Calgary and 2,523 were in Edmonton.
Giving away Canada's Real Estate top wealth building, Alberta foreclosure, incredible million dollar secrets, techniques and strategies at two events in Edmonton and Calgary-Alberta.
The first event, Canadian Real Estate Investment Education Live Seminar in Calgary
The second event, Canadian Real Estate Investment Education Live Seminar in Edmonton
Get your tickets for the live training at http://www.Flipping4Profit.ca.
In this Alberta foreclosure Real Estate Live training seminar, you will learn top ten ways to find deep discounted Alberta real estate deals.
Along with the strategies mentioned above, you will also learn the process to utilize other people's money for No Money Down. Gain knowledge on the many ways which you can find Canadian private hard money lenders. Find out the method which can be used to utilize Canadian financing to finance No Money Down deals. Last but not least, discover the techniques to find pennies on a dollar deep discounted property from the comfort of your home or office.
These 2 great events are eye openers for Virgin Real Estate Investors: If you have never invested in real estate, get started when the market is ripe for the picking. No money? No credit? No problem! You'll see exactly how our students have become financially free by using our proven methods.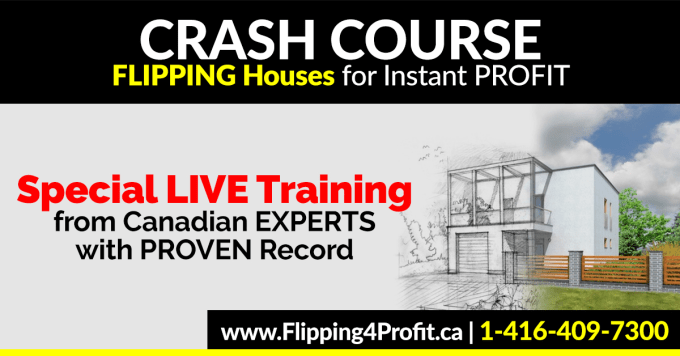 Experienced Canadian Real Estate Investors will learn innovative great techniques and strategies. They will find out how to move up to the phenomenal income potential in our method of investing. Get proven Canadian strategies that take you from your current income to the next level you desire and put you in a whole new money-making league.
Canadian Real Estate Professionals have double edge benefits by attending both events too; now is the time for you to make more money in your deals. See how you can earn more than a commission and massively increase your net worth by getting into the action yourself.
We have been training Canadian creative Real Estate Investment strategies, techniques since 1993 successfully in small groups only.