The City of Red Deer
Notice is hereby given that, under the provisions of the Municipal Government Act, The City of Red Deer will offer for sale, by public auction, in the Crimson Star meeting room at City Hall, 4914 48 Avenue, Red Deer, Alberta, on Wednesday, April 26th, 2017, at 1:00 p.m., the following privately owned property:
Public Auction, City of Red Deer, Alberta, Canada
Land Descriptions:
Lot
Block
Plan
C of T
96
9
0623375
142044815
1
6
9823751
032464647
1
0727533
082238986
22
7
971RS
122024918
17
14
7922027
122183365
10
4
9826345
132363370
205
3
0225439
092221565
11
10
5897HW
962229004
19
4
7922591
952329942
5
6
0725136
082392360
12B
15
7721763
152120605
16
A
6597KS
922175602
38A
1
1235RS
162271198
22
9822447
992371694
22
0120875
072510084
31
0120875
072659496
58
5
1224564
142125957
33
7820561
062219727
56
1
7621890
082420070
36
4
0521851
052488852
8
1
0123772
022026475
130
5
0426542
072439190
Manufactured Homes Only: Situated on the
following rented lots
Lot
Block
Plan
Site #
3
10
3231TR
410
3
10
3231TR
414
8
9
7722780
214
8
9
7722780
423
8
9
7722780
710
3
13
7822082
6226
A
7821023
99
A
7821023
147
A
7821023
155
A
7821023
169
A
7821023
234
A
7821023
272
A
7821023
315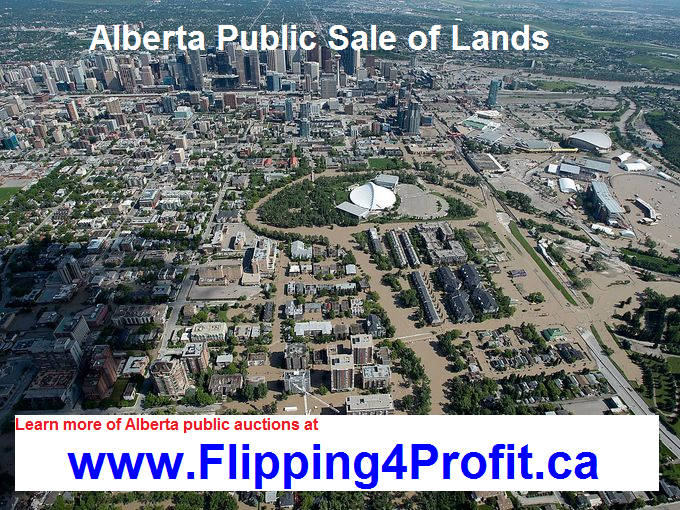 All properties offered for sale by Public Auction are viewed externally and an  estimate of the market value of each property has been made based on that review. This estimate of market value is used as the reserve bid and it represents the minimum bid that will be accepted at Auction. All sales will be subject to a reserve bid.
Reserve bid values will be available 30 days prior to Auction from the City Revenue & Assessment Services department. Purchaser will acquire the property free of encumbrances, subject to those exceptions listed in sections 423 and 436.14 of the
Municipal Government Act.
The properties will be sold strictly on an "as is, where is" basis. The City of Red Deer makes no representation and gives no warranty as to the adequacy of services, soil conditions, land use districting, building and development conditions, absence or presence of environmental contamination, or the developability of the
subject property for any intended use by the Purchaser. If the Land is occupied by a tenant in possession under a lease or rental agreement, the obligation and expense of obtaining vacant possession shall be the Purchasers'.
Only cash sales will be accepted or sales requiring loan funding which does not involve encumbering of the purchased lands and provides for closing funds upon the required closing date in the same manner as a cash sale. Vendor financing or financing using third party mortgages or encumbrances upon the purchased lands, or other similar financing arrangements, cannot be accommodated.
Purchase price payable by non-refundable deposit equal to 10% of purchase price due on Auction Date, with the balance of the purchase price due on closing. Payments by cash, bank draft or certified cheque only. Closing date for all sales will be 60 days
after Auction Date, unless otherwise agreed to by the City. Successful bidder agrees to be bound by the Terms and Conditions of the City's Standard Tax Sales Agreement, a copy of which will be included in Bidder's Packages on Auction Date and can be obtained 30 days prior to Auction Date from Revenue & Assessment Services. Purchase price includes all taxes, rates, fees and charges accrued to
Closing Date. Purchaser responsible for payment of all taxes, rates, charges, and fees for the property, after Closing Date.
The City of Red Deer may become the owner of any property not sold at the Auction. In the event that payment of the arrears of taxes and costs is received by The City prior to the Public Auction, the property in question will not be offered for sale. There is no right to pay tax arrears after the property is declared sold.
Dated at Red Deer, Alberta, February 1st, 2017.
Trista Mowat, Property Tax Specialist.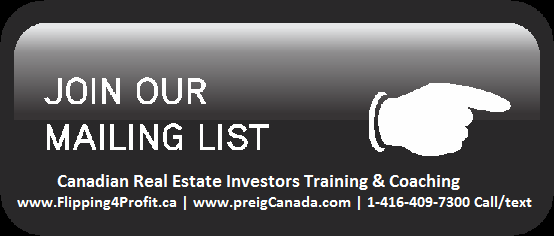 DISCLAIMER
We believe the information contained in this article to be accurate.
It is presented with the understanding that we are not engaged in rendering legal,
accounting, or investment advice. When professional assistance is required,
utilize the services of a licensed real estate broker, lawyer, accountant,
or other consultant as may be required.
Flipping for instant profit LIVE Real Estate Crash Course/Seminar
Reserve your seat now at
www.Flipping4Profit.ca