Surplus properties in the City of Toronto
Surplus Property
The Chief Corporate Officer is authorized to declare land surplus and approve the intended manner or process by which the disposition of land will be carried out.
More info at
http://www1.toronto.ca/wps/portal/contentonly?vgnextoid=979ae9d747471410VgnVCM10000071d60f89RCRD
Disclaimer
While the information provided in this website has been compiled from sources believed to be accurate, users of this website must exercise appropriate due diligence and independently review and verify the information. None of the City, its officers, employees, agents, representatives or elected and appointed officials make any representations or warranties about the accuracy or completeness of the information or have any liability or responsibility for the accuracy or completeness of any of the information. In using this website, you will be deemed to have read and accepted these terms of use.
DISCLAIMER
We believe the information contained in this article to be accurate. It is presented with the understanding that we are not engaged in rendering legal, accounting, or investment advice. When professional assistance is required, utilize the services of a licensed real estate broker, lawyer, accountant, or other consultant as may be required.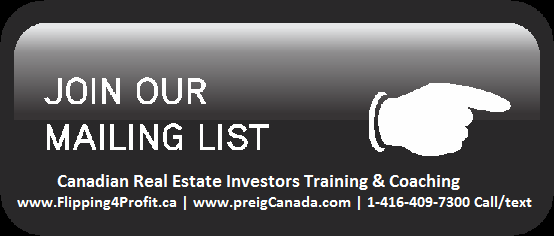 Flipping for instant profit LIVE real estate training seminar
Reserve your seat now at
www.Flipping4Profit.ca

Canadian Creative Financing Apprenticeship


Canadian Real Estate Investors Coaching & Mentoring


Eyewitness Canadian Real Estate Investors Training