Notice is hereby given that under the provisions of the Municipal Government Act, the City of Lethbridge will offer for sale, by public auction, in the Culver City Room (Room 147) on the main floor of City Hall, 910 4 Avenue South, Lethbridge, Alberta, on Thursday, April 7, 2016, at 11:00 a.m., the following parcels of land:
Tax Sale Properties Lethbridge – Alberta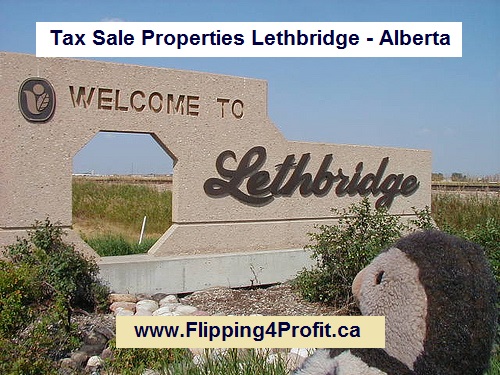 Plan-Block-Lot/Unit-Civic Address
0614257=16-78-18 Couleesprings Pl S
2478R-1-33,34-1015 12B St S
4353S-68-1,2-1402 2 Ave S
384B-40-42-809 7 Ave S
0311888-19-117-813 Blackfoot Terr W
7911317-5-43-10 Mt Blakiston Pl W
8310663-1-1-300 Bridge Dr W
5329JK-G-320 Bridge Dr W
1011902-12-17-800 Canyonview Close W
9610158-4-6-15 Chilcotin Lane W
8311181-22-305-420 Columbia Blvd W
8311181-46-206-440 Columbia Blvd W
7811640-28-100-22 Columbia Pl W
8110763-4A-18-27 Dakota Rd W
9011100-1-17-26 Heritage Close W
1012954-11-35-3 Mt Sundial Bay W
7410532-25-25-21 Robin Rd N
8480GQ-6-70625 Stafford Dr N
1044AI-2-13,14-1116 Stafford Dr N
7710767-4-2-1706 St Edward Blvd N
0513779-2-58-99 Jessie Robinson Close
6212GP-2-20-1119 7 St N
406R-160-22,23-702 12B St N
4863IA-2-24-1207 12B St N
406R-169-31,32-807 12C St N
2932A-21,22-1818 4 Ave N
3365Y-10,11-1722 5A Ave N
0414358-19-4-4002 9 Ave N
Each property will be offered for sale subject to a reserve bid and to the following
Terms and Conditions:
The properties are being offered for sale on an "as is, where is" basis and the City of Lethbridge makes no representation and gives no warranty whatsoever as to the adequacy of services, soil conditions, zoning, building and development conditions, absence or presence of environmental contamination, vacant possession, or the development potential of the lands for any intended use by the successful bidder.
The successful bidder has a right to a clear title with some exceptions. Section 423(1)(a) to (h) of the MGA states "a person who purchases a parcel of land at a public auction acquires the land free of all encumbrances, except (a) encumbrances arising from claims of the Crown in right of Canada, (b) irrigation of drainage
debentures, (c) caveats referred to in section 39(12) of the Condominium Property Act, (d) registered easements and instruments registered pursuant to section 69 of the
Land Titles Act, (e) right of entry orders as defined in the Surface Rights Act registered under the Land Titles Act, (f) a notice of lien filed pursuant to section 38 of the Rural Utilities Act, (g) a notice of lien filed pursuant to section 20 of the Rural Electrification Loan Act, and (h) liens registered pursuant to section 21 of the Rural
Electrification Long-term Financing Act."
The purchaser of the property will be responsible for property taxes for the current year.
The successful bidder must, at the time of the sale, make a non-refundable ten percent (10%) deposit payable to the municipality, with the balance of the purchase price due on closing date.
Closing date for all sales will be fourteen (14) days after Auction Date. Goods and Services Tax (GST) will apply to all vacant parcels of land sold at the Public Auction.
No terms or conditions of the sale will be considered other than those specified by the municipality.
Payments by cash, certified cheque or bank draft only. Vendor financing or financing using third party mortgages or encumbrances upon the purchased lands, or other similar financing arrangements, cannot be accommodated.
The auctioneer, councilors, the chief administrative officer and the designated officers and employees of the municipality must not bid or buy any property offered for sale, unless directed by the municipality to bid for or buy a parcel of land on behalf of the
municipality.
If no offer is received on a property or if the reserve bid is not met, the property cannot be sold at the public auction.
Once the property is declared sold to another individual at public auction the previous owner has no further right of possession by paying the tax arrears.
The risk of the property lies with the purchaser immediately following the auction. The purchaser will be required to execute a Sale Agreement in form and substance provided by the municipality.
The purchaser is responsible for obtaining vacant possession.
The purchaser will be responsible for the transfer registration fee.
The City of Lethbridge may, after the public auction, become the owner of any property that is not sold at the public auction.
A property will be removed from the Public Auction if payment of all arrears of taxes and costs occurs at any time prior to the sale.
Dated at Lethbridge, Alberta, February 13, 2016.
Stan Dilworth, Assessment and Taxation Manager.
DISCLAIMER
We believe the information contained in this article to be accurate. It is presented with the understanding that we are not engaged in rendering legal, accounting, or investment advice. When professional assistance is required, utilize the services of a licensed real estate broker, lawyer, accountant, or other consultant as may be required.
Speaking Engagements
Navtaj Chandhoke can be your next key note speaker for real estate/sales/marketing office meeting or Canadian real estate investment conventions, expos or trade shows. Please contact us for topics and availability.
Please contact us directly at Pam@WorldWealthBuilders.com or 647-393-6100 to set up a session at your meeting or convention.
Flipping for instant profit LIVE real estate training seminar
Reserve your seat now at
www.Flipping4Profit.ca

Special Sale Forgivable Canadian Business & Real estate Grants, Canadian Credit Repair


Alberta Foreclosure LIVE Training 2016


Canadian Creative Financing Apprenticeship


Canadian Real Estate Investors Coaching & Mentoring


Eyewitness Canadian Real Estate Investors Training


$500 reasons to be a Referral Partner


P.S. Success isn't a matter of chance, it's a matter of choice. So it's up to you to make the right choice to become successful. If you don't know what to do it starts with making the choice to register for this LIVE real estate investors training in your town now at www.Flipping4Profit.ca and making sure you make the right choice to SHOW UP!!! Learn more to earn more!