Public Sale of Land, Alberta, Canada
Municipal Government Act Alberta, Canada
City of Medicine Hat
Notice is hereby given that under the provisions of the Municipal Government Act, the City of Medicine Hat will offer for sale for Alberta public sale of land Medicine Hat, by public auction, at City Hall, 580 1 Street SE, in Meeting Room M-1, Main Floor,[b] Medicine Hat, Alberta, on Friday, March 31, 2017[/b], at 9:00 a.m., the following lands:
Alberta public sale of land Medicine Hat
Lands Description:
Plan
Block
Lot
LINC
Title No
Address
7510086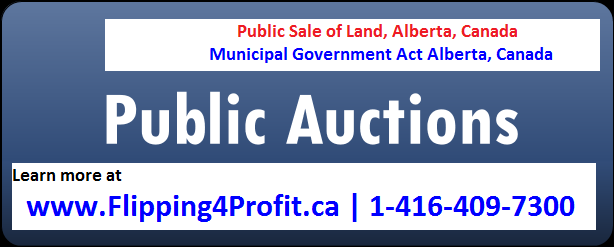 4
5
18125618
021044516
1932 9 Avenue NE
7611036
3
92
17915241
011162882
84 Rossdale Drive SE
2140AJ
6
25 & 26
15450406
121305842
2801 15 Avenue SE
1837F
U
18
20273199
931127958
666 8 Street SE
1132M
2
10
15338221
111245755
277 6 Street SE
7910368
1
13
17220229
121158281
21 South Ridge Crescent SW
703HE
3
17
20738655
021305448
80 12 Street NW
0412814
31
24
30614549
051296375
179 Sierra Drive SW
0510654
23
39
30943758
071243293
258 Sierra Road SW
8010927
5
22
13193685
101 026 250
29 De Havilland Blvd SW
Each parcel being offered for sale on an "as is, where is" basis and The City of Medicine Hat makes no representation and gives no warranties as to the adequacy of services, soil conditions, land use districting, building and development conditions, absence or presence of environmental contamination, or the development ability of the subject land for any intended use by the purchaser. If the property is occupied by a tenant in possession, the obligation and expense of obtaining vacant possession shall be the purchasers.
No bid will be accepted where the bidder attempts to attach conditions precedent to the sale of the parcel.
Terms:Cash, Certified Cheque or Bank Draft. 10% non-refundable deposit on the day of the sale and the balance is due within 24 hours of the Public Auction.
Each parcel offered for sale is subject to a reserve bid and to the reservations and conditions contained in the existing certificate of title.
The City of Medicine Hat may, after the public auction, become the owner of any parcel of land not sold at the public auction.
Redemption may be effected by payment of all arrears of taxes and costs at any time prior to the sale. Once the property is declared sold to another individual at public auction the previous owner has no further right to pay the tax arrears.
Dated at Medicine Hat, Alberta, January 12, 2017.
Tanis Olinski, Collection Officer.
DISCLAIMER
We believe the information contained in this article to be accurate.
It is presented with the understanding that we are not engaged in rendering legal,
accounting, or investment advice. When professional assistance is required,
utilize the services of a licensed real estate broker, lawyer, accountant,
or other consultant as may be required.