Ontario homeowners can choose from a shopping list of renovation grants from the Government of Canada:
Furnaces — high-efficiency gas or oil, up to $790
Central air conditioners — replacement $250
Hot water heaters — condensing gas $375
Hot water heaters — tankless/instantaneous gas, condensing-type $375
Boilers — high-efficiency gas or oil $750
HRV — heat recovery ventilator $375
Solar — hot water system $1,250
Heat pumps — air-source heat pump which doubles as air conditioner $500
Geothermal — ground- or water-source heat pumps which are energy-efficient heating and cooling systems up to $4,375
Ontario homeowners can also get…
Attic or roof — insulation up to $750
Exterior wall — insulation up to $1,875
Basement — insulation up to $1,250
Crawl space — insulation up to $1,000
Air sealing — for your home up to $430
Windows & doors — $40 for each replacement unit
Toilets — $65 for each low-flow replacement unit
DISCLAIMER: 
We believe the information contained in this article to be accurate. It is presented with the understanding that we are not engaged in rendering legal, accounting, or investment advice. When professional assistance is required, utilize the services of a licensed real estate broker, lawyer, accountant, or other consultant as may be required.
To buy a directory of all Canadian Real Estate Grants at 60% discount, please go to: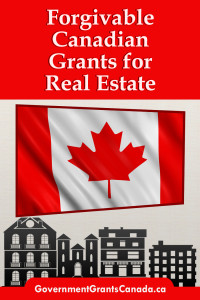 http://www.flipping4profit.ca/special-services/real-estate-grants/
Special Sale Forgivable Canadian Business & Real estate Grants, Canadian Credit Repair


P.S. Success isn't a matter of chance, it's a matter of choice. So it's up to you to make the right choice to become successful. If you don't know what to do it starts with making the choice to register for this LIVE real estate investors training in your town now at www.Flipping4Profit.ca and making sure you make the right choice to SHOW UP!!! Learn more to earn more about Canadian Tax sale properties.
We are also Canadian private hard money lenders. We can offer you multiple solutions to resolve any situation. We can also do short term small private mortgage if required.
We can HELP !! We also BUY HOUSES. Please call:

Are you a Canadian real estate Investor? Join Canada's largest real estate investors club now.