What is the Secondary Suites Program?
Provides financial assistance to eligible homeowners to construct a secondary suite in the form of a forgivable loan for 50% of the total construction/renovation costs to a maximum of $35,000 per suite.
Secondary Suites Program

What are the qualifications and guidelines for the Secondary Suites Program?
Eligible applicants are homeowners, who own the property and are living in the primary dwelling full-time where the secondary suite is to be developed.
The secondary suite must be a private, self-contained residential unit
A secondary suite can be in the basement or an above ground addition to the main dwelling, a garden suite, a carriage suite or garage suite.
Etc.
DISCLAIMER:
We believe the information contained in this article to be accurate. It is presented with the understanding that we are not engaged in rendering legal, accounting, or investment advice. When professional assistance is required, utilize the services of a licensed real estate broker, lawyer, accountant, or other consultant as may be required.
To buy a directory of all Canadian Real Estate Grants at 60% discount, please go to: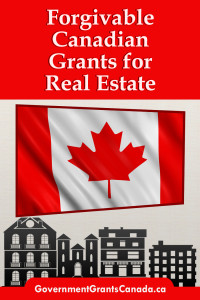 http://www.flipping4profit.ca/special-services/real-estate-grants/
Special Sale Forgivable Canadian Business & Real estate Grants, Canadian Credit Repair


P.S. Success isn't a matter of chance, it's a matter of choice. So it's up to you to make the right choice to become successful. If you don't know what to do it starts with making the choice to register for this LIVE real estate investors training in your town now at www.Flipping4Profit.ca and making sure you make the right choice to SHOW UP!!! Learn more to earn more about Canadian Tax sale properties.