The Home Program Down payment assistance, Alberta

The Home Program Down payment assistance, Alberta

What is HOME Program?
The HOME Program Down payment assistance helps low income people become homeowners, through education, financial assistance and one-on-one counselling.
Who can take The HOME Program?
The education component, delivered in two sessions, is open to anyone interested in owning a home. Participants do not have to be first time buyers or low income buyers.
Who can qualify for down payment assistance?
Low income buyers who have completed both education sessions can apply for down payment assistance for up to two and a half percent of purchase price. The down payment assistance is a gift and only has to be repaid if the property is sold for a profit within three years.
Alberta Foreclosure LIVE Training 2016


Down Payment Assistance
Many people who try to buy a home have a problem with the down payment. It can be thousands of dollars and many people do not have the means to save up enough money on their own. The HOME Program can help you. You may be eligible to receive up to $3000 to put towards your down payment and closing costs.
The Home program weaves together five elements to address obstacles faced by households working to become home owners; these are detailed below.
Education
Individual Support and Advocacy
Downpayment Matching
Underwriting Assistance
Ongoing Support
1. EDUCATION
The Affordable HomeOwnership Education Workshops will cover topics that the potential home owner will need to be aware of and understand prior to purchasing a home. Topics to be included:
A. Session 1: Preparing for Home Ownership
This session is open to everyone. Attendance is on a first-come-first serve basis but advanced registration is required. The session is intended to provide an overview of home ownership and affordability issues. Following this session you should know what the next appropriate step should be if you wish to achieve home ownership. Individual counseling is available in the areas of credit, financing, and savings assistance. You will have the opportunity to continue with the rest of the program which is required to establish eligibility for special down payment assistance and other related programs.
B. Session 2: Obtaining a Mortgage, Shopping for a Home & Closing
Participation in these sessions requires advanced registration. Program counselors will review your eligibility for the program and selection may be based on predetermined financial criteria. These sessions will continue the review of topics covered in Session 1, and go on to address all other aspects and stages of purchasing a home. This four hour session is offered on a Saturday. There currently is no cost for these sessions.
2. INDIVIDUAL SUPPORT AND ADVOCACY
The HOME Program tries to tailor the program to your individual concerns and barriers.
The focus is to develop plans with you to address various obstacles, such as poor credit history or lack of a down payment, and to help you pre-qualify for a mortgage. When you complete both education sessions a discussion can be scheduled with the Program or Financial Coordinator to address your specific needs. Ongoing programs are run throughout the year, and currently include financial literacy and credit workshops. New workshops will be developed as needed.
3. DOWN-PAYMENT ASSISTANCE
As a starting point in addressing barriers to home ownership, The Program can work to assist with down-payments. The Alberta Real Estate Foundation and local participating REALTORS have teamed up to create a revolving fund for this purpose. Once having completed the education component and demonstrated to the program they are ready to transition into home ownership participants are eligible for financial assistance.
4. UNDERWRITING ASSISTANCE
The next program now being piloted by The HOME Program is in the area of mortgage underwriting and the criteria used by CMHC and financial institutions in qualifying individuals. The pilot program is being structured to allow individuals to be reviewed on a case by case basis instead of the current automated systems now in use. The HOME Program will continue to follow up with participants of this program to demonstrate that the risk to financial institutions is actually lowered when a person is educated and supported.
Alberta Foreclosure LIVE Training 2016


5. ONGOING SUPPORT
The Program has ongoing support in a number of areas. The program coordinator will follow-up with those who are working on credit repair and savings programs to assist them in meeting their objectives. Resources and information on home maintenance will be offered to those who have successfully purchased a home. In addition to individual support networking with other program participants, and new homeowners is encouraged.
DISCLAIMER
We believe the information contained in this article to be accurate. It is presented with the understanding that we are not engaged in rendering legal, accounting, or investment advice. When professional assistance is required, utilize the services of a licensed real estate broker, lawyer, accountant, or other consultant as may be required.
To buy a directory of all Canadian Real Estate Grants at 60% discount, please go to: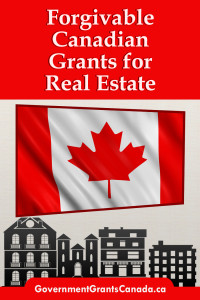 http://www.flipping4profit.ca/special-services/real-estate-grants/
Special Sale Forgivable Canadian Business & Real estate Grants, Canadian Credit Repair


P.S. Success isn't a matter of chance, it's a matter of choice. So it's up to you to make the right choice to become successful. If you don't know what to do it starts with making the choice to register for this LIVE real estate investors training in your town now at www.Flipping4Profit.ca and making sure you make the right choice to SHOW UP!!! Learn more to earn more about Canadian Tax sale properties.