Emergency Repair Program

The Emergency Repair Program is meant to help those who have a low income and need to make necessary repairs to their home. To be eligible, an individual only needs to have low income and be a tenant or homeowner in a rural area of Canada. Repairs may be made on a variety of areas of the home, including the electrical system, the foundation, chimneys, windows and doors, among other areas. The grant amount, like other financial assistance, varies depending on where one lives in Canada. Assistance totals $6,000, $9,000 and $11,000, respectively, for those that live in the southern, northern and far northern parts of the country. Repairs that are started before the application for funding has been approved in writing are not eligible for the grant.

Canada Housing and Mortgage Corp. 700 Montreal Road Ottawa, Ontario K1A 0P7
800-668-2642 cmhc-schl.gc.ca
DISCLAIMER:
We believe the information contained in this article to be accurate. It is presented with the understanding that we are not engaged in rendering legal, accounting, or investment advice. When professional assistance is required, utilize the services of a licensed real estate broker, lawyer, accountant, or other consultant as may be required.
To buy a directory of all Canadian Real Estate Grants at 60% discount, please go to: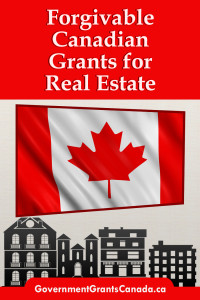 http://www.flipping4profit.ca/special-services/real-estate-grants/
Special Sale Forgivable Canadian Business & Real estate Grants, Canadian Credit Repair


We are also Canadian private hard money lenders. We can offer you multiple solutions to resolve any situation. We can also do short term small private mortgage if required.
We can HELP !! We also BUY HOUSES. Please call:

P.S. Success isn't a matter of chance, it's a matter of choice. So it's up to you to make the right choice to become successful. If you don't know what to do it starts with making the choice to register for this LIVE real estate investors training in your town now and making sure you make the right choice to SHOW UP!!! Learn more to earn more!
Are you a Canadian real estate Investor? Join Canada's largest real estate investors club now.