Garden Suites in Canada means a single-storey Accessory Dwelling, which is located in a building separate from the principal Use which is Single Detached Housing. Garden Suites in Canada have cooking facilities, food preparation, sleeping and sanitary facilities which are separate from those of the principal dwelling located on the Site. Canadian professional real estate investors use Garden Suites in Canada to create more affordable housing for seniors as well as disable Canadians.
A Garden Suite in Canada — sometimes called a granny flat — is a self-contained dwelling without a basement. It is installed in the rear or side yard of a lot with an existing, permanent, single-family house.

Usually, a Garden Suite in Canada has a kitchen, living area, one or two bedrooms, bathroom and storage. The municipality may have planning or zoning regulations governing garden suites. These regulations can set restrictions, such as distance from the permanent house, parking requirements, how long a garden suite can stay on a lot and the appearance of the garden.

Garden Suite in Canada are usually intended for individuals or couples over the age of 65 who can live independently, or for people with disabilities. The people living in the permanent dwelling, or the "principle dwelling" — can provide the care and support to those living in the Garden Suite in Canada. The owners of the principle dwelling: are usually the children, grandchildren or other close relatives of the garden suite occupants.
Garden Suite in Canada provides affordable housing. They can be barrier-free and should be easy to maintain. Garden Suite in Canada are an affordable housing option for family members requiring some level of care, but who also want to maintain independence. Where municipalities allow Garden Suite in Canada to be rented, they can provide income for the owner of the principle dwelling, and an affordable housing option for the community. Garden Suite in Canada:

1. allow the family members to provide support, companionship and security to the occupants of the Garden Suite in Canada while giving both households continued independence and privacy
2. Provide a healthy and supportive environment that may enable occupants to continue to live independently longer. Can be an affordable solution for taking care of aging family members
3. may reduce demands on community services when the host family can provide support
4. often do not alter neighborhood character, as they are temporary
Garden Suite in Canada are owned and installed by the owner of the permanent home on the property where the suite is located. Some municipalities require the occupants of one of the two dwellings to be the owner of the property, some expressly prohibit the rental or lease of the property, and some require the occupant of the Garden Suite in Canada to be a relative or a caregiver of the host family.
Learn more "how to increase the value and cashflow" at Canadian real estate investirs training LIVE in your city.

Municipalities regulate the use and location of Garden Suite in Canada. The zoning by-law stipulates if and where Garden Suites are allowed and the terms and conditions for their occupancy, such as how long the suite may be permitted on a property, who can occupy the unit, the minimum or maximum size of the suite, servicing parking and design.

Garden Suite in Canada is temporary structures with no basement. They can be constructed on site, assembled from modular components or be entirely prefabricated. Water, sewer (septic) and utilities are typically connected to the principal residence services.

Learn more by attending Canadian Real Estate Investors Strategy Apprenticeship.
To buy a directory of all Canadian Real Estate Grants at 60% discount, please go to: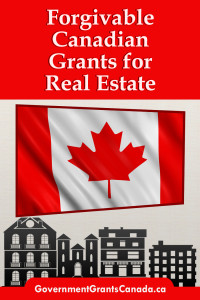 http://www.flipping4profit.ca/special-services/real-estate-grants/
Special Sale Forgivable Canadian Business & Real estate Grants, Canadian Credit Repair


We are also Canadian private hard money lenders. We can offer you multiple solutions to resolve any situation.We can also do short term small private mortgage if required.
We can HELP!!! We also BUY HOUSES. Please call:

P.S. Success isn't a matter of chance, it's a matter of choice. So it's up to you to make the right choice to become successful. If you don't know what to do it starts with making the choice to register for this LIVE real estate investors training in your town now and making sure you make the right choice to SHOW UP!!! Learn more to earn more!
Are you a Canadian real estate Investor? Join Canada's largest real estate investors club now.