Home Energy Loan Program (HELP) is a new financing tool offered by the City of Toronto to help you improve your home's energy efficiency and save money.
Upgrading your insulation and replacing an old furnace are examples of cost-effective improvements – also called retrofits – that can cut your energy bills, improve home comfort and reduce harmful emissions to the environment. For many people, however, the high upfront cost of these improvements can be a barrier to taking action.
Home Energy Loan Program (HELP) offers a solution.

Low interest loans are available to qualifying homeowners who are interested in improving the energy and water efficiency of their home. Through Home Energy Loan Program (HELP), the City will provide the funding required to complete the improvements and the homeowner will repay the City over time through installments on their property tax bill.
The potential savings you may realize after completing your home energy retrofit will help to offset the cost of your monthly repayments to the City. And by making your home more energy efficient, you will be better protected against rising energy costs.
Alberta Foreclosure LIVE Training 2016


Five benefits of Home Energy Loan Program (HELP) financing
1. Home Energy Loan Program (HELP) allows you to avoid the large upfront cost of home energy improvements and pay for them over time.
2. HELP financing is attached to the property, not to the property owner. If you sell the property before the loan is repaid, the new owner will assume the balance of the loan and continue to repay it through the property tax bill.
3. You may pay off your HELP loan at any time, without penalty.
4. You benefit from low interest rates and longer repayment terms, compared to conventional financing.
5. You can take advantage of incentives to reduce the cost of your projects. An incentive of up to $650 is available from Toronto Hydro for replacing your furnace and air conditioner with high efficiency units.
*Please note: Enbridge Gas Distribution's Home Energy Conservation (HEC) Program is still available to homeowners who participate in HELP. Please contact the Home Energy Loan Program (HELP) team for more information at
homeenergyloan@toronto.ca
416-392-1826
Eyewitness Canadian Real Estate Investors Training


Do I qualify?
You may qualify for a low interest loan through HELP if:
you own a detached, semi-detached, or row house;
all of the property owners on title consent to the program;
your property tax and utility payments to the City are in good standing; and
you obtain written consent from your mortgage lender, if applicable.
What types of home energy improvements are eligible?
The following are examples of improvements supported by HELP:
High efficiency furnace/boiler/central air conditioner
High efficiency water heater
Window or door replacement
Air sealing (for example, weather stripping or caulking)
Basement/attic/exterior wall insulation
Toilet replacement
Drain water heat recovery system
Heat recovery/energy recovery ventilator
DISCLAIMER:
We believe the information contained in this article to be accurate. It is presented with the understanding that we are not engaged in rendering legal, accounting, or investment advice. When professional assistance is required, utilize the services of a licensed real estate broker, lawyer, accountant, or other consultant as may be required.
To buy a directory of all Canadian Real Estate Grants at 60% discount, please go to: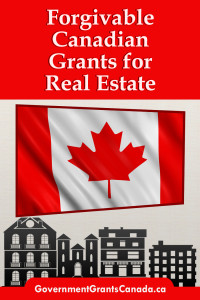 http://www.flipping4profit.ca/special-services/real-estate-grants/
Special Sale Forgivable Canadian Business & Real estate Grants, Canadian Credit Repair


P.S. Success isn't a matter of chance, it's a matter of choice. So it's up to you to make the right choice to become successful. If you don't know what to do it starts with making the choice to register for this LIVE real estate investors training in your town now at www.Flipping4Profit.ca and making sure you make the right choice to SHOW UP!!! Learn more to earn more about Canadian Tax sale properties.