First-Time Home Buyers' Tax Credit

Program
First-time home buyers may be eligible for a 15 per-cent income tax credit for closing costs.
Details
• To assist first-time home buyers with the costs related to the purchase of a home.
• The First-Time Home Buyers' Credit (FTHBC) provides a 15 percent credit on a maximum of $5,000 of home purchase costs (e.g. legal fees, land transfer taxes, etc.), meaning maximum tax relief of $750.
• Applicable to first-time buyers purchasing a home closing after January 27, 2009.
• The FTHBC is claimable for the taxation year in which the home is acquired.
• An individual will be considered a first-time home buyer if neither the individual nor the individual's spouse or common-law partner owned and lived in another home in the calendar year of the home purchase or in any of the four preceding calendar years.
DISCLAIMER:
We believe the information contained in this article to be accurate. It is presented with the understanding that we are not engaged in rendering legal, accounting, or investment advice. When professional assistance is required, utilize the services of a licensed real estate broker, lawyer, accountant, or other consultant as may be required.
To buy a directory of all Canadian Real Estate Grants at 60% discount, please go to: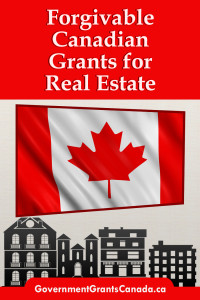 http://www.flipping4profit.ca/special-services/real-estate-grants/
Special Sale Forgivable Canadian Business & Real estate Grants, Canadian Credit Repair


We are also Canadian private hard money lenders. We can offer you multiple solutions to resolve any situation. We can also do short term small private mortgage if required.
We can HELP !! We also BUY HOUSES. Please call:

P.S. Success isn't a matter of chance, it's a matter of choice. So it's up to you to make the right choice to become successful. If you don't know what to do it starts with making the choice to register for this LIVE real estate investors training in your town now and making sure you make the right choice to SHOW UP!!! Learn more to earn more!
Are you a Canadian real estate Investor? Join Canada's largest real estate investors club now.