50+ Ways to Find Panic Home Sellers in Canada
Find a great deal
Finding panic home sellers in Canada requires education, training, and coaching. Realtors intend to use the words "Motivated Sellers" but in real life they are panic sellers. Being a Professional Real Estate Investor in Canada you would prefer the Panic Seller to request you to buy the house instead of looking for those properties.
Marketing on steroids will help real estate investors to find discounted real estate deals. That is part of Canadian Real Estate Investors strategy apprenticeship program. Buying Canadian Real Estate pennies to dollar will help you make instant profit. Wholesaling real estate deals require you to find properties from panic sellers which are 40 – 97% below current market value.
You can find tons of properties
which require fix and flip. In fact the proper margins can be extremely small. You can learn more by joining Professional Real Estate Investors Group (PREIG Canada). Here are the top 50+ ways to find panic home sellers in Canada:
Civil Enforcement: Sheriff may be instructed by court order
Tax Liens: Homeowner who has not paid their property taxes for more than 3 years
Power of Sale: Where the lender or bank is going to sell their property to recover their money.
Civil Forfeiture: Where the authorities (Police) have taken due to criminal activities
Canada Revenue Agency: Canadians who do not pay their taxes, their properties can be sold by CRA the taxman, by writ of seizure
Grow Op: Illegal activity
Stigmatized Properties: Death, Murder, Haunted houses etc.
Expired MLS Listings: Get automated email list from a real estate agent.
Social Media: Facebook, Twitter, YouTube, Pinterest, Instagram
Small Home Builders: Often buyers are trading up and may have trouble selling current home
Retirees: Excellent prospects for seller financing and homes with equity.
Rental Agents & Property Managers: Has a list of non-owner occupied owners and can identify landlords eager to get rid of cash-flow property.
Nursing & Retirement Homes: Frequently residents and family members need to sell a house or don't want to deal with tenants.
TV and Radio: Local stations & cable companies have free/low-cost spots
Networking: Connect with Investors online, Call We Buy Houses ads & signs, Investment Associations &  Clubs
Mobile Homes: Get to know park managers. Sellers have hard time dealing with banks.
Market Bulletin Boards: Coffee shops, Restaurants, gyms
Car Signs and Wraps: Tell the world that you "buy houses" while running your errands.

Local Fast Food: Many sell advertising. Pick a target neighbor and test.

Lis Pendens: Notice of a law suit, usually a foreclosure.
Lenders: Banks / Mortgage Investment Corporations (MIC) – Mortgage Brokers, Private Lenders, Hard Money Lenders
Judgments & Liened Properties:  Public county or city records, Mechanics Liens, HOA Liens, Tax Liens
Investor Packages: May be able to negotiate seller financing as well as terms
Foreclosures: Internet: EBay, Craigslist, Wholesale Sites, Lead Services,
Funeral Homes: Good source for inherited property or upcoming sales
FSBO Signs: for sale by owner
Flyers:  Think Shopping Centers, Wal-Mart, Home Depot, Malls. Put on car windshields or pay someone to do it for you. Use quarter or half pages and print on both sides.
Insurance Brokers: Policy changes from owner occupant to landlord or vacant house coverage.
Farm & Drive for Dollars: Study a local neighborhood and establish yourself as the go-to problem solver for distressed owners and distressed property
Surplus properties: Great deals available through Federal, provincial, local and agencies.
Eviction Court: great place to find landlords
Estate Sales – sometimes tied to probate and chances are the real estate will also be available soon or be transferred to an unwanting relative
Door Knocking: Distribute flyers and go door-to-door asking residents if they know of anyone planning to move because you'd like to buy a house in their neighborhood!
Door Hangers: You can also use pre-printed post-it notes to leave messages at target properties. Be sure to advertise on both sides, you can even sell the back side and recover your advertising cost!
Direct Mail: Pre-Foreclosure Letters, Probate Letters, Out of Town Owners, Bankruptcies, Divorce & Delinquent Taxes
Delivery Carriers: Think Postmen, Newspaper, Fed-EX, UPS, water delivery, Swanson guy. They can let you know who is moving, vacant houses, financial trouble, about to sell
Credit Repair Agencies & Counselors: Many times the only way someone can get their spending under control is to sell a house they can no longer afford.
Courts: Eviction Filings, Probate, Divorce Cases, Tax Liens, Code Violations
Personal Finance & Car Lot Finance Companies:  Good lead source for people who are in financial difficulty and used to dealing with "terms.

Condemned Houses: You need to find it out by having connections and knowledge.

Classified Ads: Look for specific keywords that could possibly mean the seller is motivated such as:  transferred, motivated, divorce, owner financing, must sell, etc.
City & County Inspectors: Code violations and red tags. If you develop a reputation of buying distressed properties and improving them, you become an asset to the community.
Car Repos: Signs of financial trouble. Get a list from repo specialist or wreckers.
Price Reduced MLS Listings: Get automated email list from a real estate agent.
Business Cards: different types: one for sellers, one for buyers, and one for professionals. Word of advice – you have to remember to pass them out.
Bird Dogs: These people can be very valuable to your business. It is important to know your local laws about compensating unlicensed people, however, so do your homework first!
Auctions: Often times, you can catch a good deal in a tax sale by beating the Auction deadline. List provides property address so you can contact owner.
Real Estate Lawyers: Think probate, real estate attorneys, family law, and divorce.
Advertising: Daily, Monthly, Simple: Quick Closing, All Cash etc., We Buy Houses Ads, Newspapers, Flyers, Online
Accountants and CPA Firms: They have clients that might need to get find of assets (houses) for tax purposes and can identify clients that have unwanted property or rentals. Also great place for getting a list of retirees with free and clear homes open to seller financing.
"We Buy Houses" Bandit Signs: Check your local sign ordinances.
Damaged/Distressed/Abandoned Houses: Look for blue tarps on roofs, boarded up windows, overgrown yards, etc. Contact the owner to see if they want to sell the property.
Cancelled MLS Listings – Get automated email list from a real estate agent.
Redemption: Learn more how the redemption period works in foreclosures, power of sales, Civil enforcements and tax liens.
Those were  50+ Ways to Find Panic Home Sellers in Canada. You can learn from Canadian Real Estate Investment Experts by attending a live workshop and attend Canadian Real Estate Investment strategy Apprenticeship.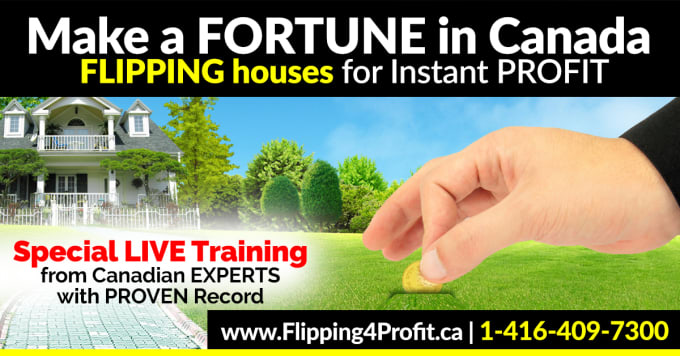 We welcome your feedback in form of suggestions and recommendations. Due to the nature of the real estate market, the need to sell it fast changes rapidly. Being a professional real estate investor, you may find it is easier to make money when the market is flat or going in a negative appreciation.